Dear people at the Campingveteranerna,
I apologise for writing to you in English. I am from the Netherlands.
Please write to me in Swedish if that's easier for you, I will try to translate!
I am a classical car and caravan enthusiast from the Netherlands. Volvo and SMV are my passion. I drive a 1984 Volvo 240 on a daily basis, and camp in a 1963 SMV 10 caravan or tent.Via the website
husvagnsforum.com
 I was pointed in your direction regarding a brochure of the SMV 10 (picture attached). Can I buy one ore more copies or receive a PDF file of this brochure?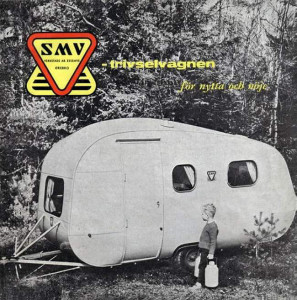 In general, I am interested in all information (brochures, pictures, drawings) and parts of the older SMV types, +/- until 1980.
At this moment, I am particularly interested in all information I can get about the SMV 8 caravan, because I am restoring one at this moment.
My restoration project is from 1958. Unfortunately, many details of this caravan are unclear or missing. I am sure I would benefit very much from brochures, pictures or drawings of a SMV 8 caravan in your club, if any. Especially the interior interests me at this moment: I could mostly use pictures and details of the sinkable kitchen floor, the heating system and the roof light (roof window) of the SMV 8 type caravan.I would really appreciate your help. All help is welcome. The SMV factory in Örebro did not respond to my e-mails both in English and Swedish, and it's very difficult to find information about the SMV 8 and other SMV types on the internet or in the Netherlands.
For your information, I have attached pictures of the restoration project and of my 1963 SMV 10.
Thank you very much in advance, with best regards,CarloDen Haag, the Netherlands
ccjpkarman(snabelA)gmail(punkt)com